Endless Solar Hot Water

Endless Solar is an Australian owned and operated company, with over 8 years' experience in supplying and custom designing high quality solar hot water systems. Endless Solar uses evacuated tube technology to deliver solar heated water to significantly reduce a building's overall energy consumption, energy bills and greenhouse gas emissions.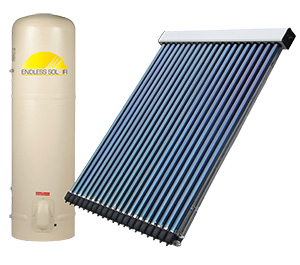 Endless Solar operates both in the residential and commercial market, with thousands of residential and commercial grade solar hot water systems approved by the Clean Energy Regulator to qualify for Small-scale Technology Certificates (STCs). For references and examples of Endless Solar's commercial evacuated tube systems, ask for a copy of its Commercial Reference Sites. Endless Solar has a proven track record in supplying high quality systems, offering upfront and detailed advice, and providing exceptional customer service.
Benefits of Endless Solar Hot Water Systems:
• Capable of providing significant cost savings and substantial reductions in energy consumption.
• Cuts exposure to volatile power prices and contributes to a cleaner environment.
• Uses the highly efficient evacuated tube technology, and high quality components.
• Naturally frost resistance without use of anti-freeze (e.g. glycol).
• Suitable for both residential and commercial applications.
• Australian Standards approved and Watermarked, and backed by genuine warranties.

Endless Solar continues to research and develop new innovative solar thermal technologies.
One of the upcoming innovations is its solar air-conditioning system which uses patented technologies.
It is anticipated that this product should be available in calendar 2014. To find out more on various technologies Endless Solar is developing, read through its Endless Innovation Presentation.
For more information on Endless Solar and its' systems, go to their website: www.endless-solar.com, or contact them on 1300 889 585.
Got some plumbing news or information?
If you have plumbing news, information or articles to share, send us a submission by clicking here.