Latest Australian Plumbing News
2016 World Plumbing Day is just around the corner.
At 64, former shearer Julyan Sumner isn't the typecast apprentice plumber.
As a plumber, you would know the importance of using quality products that adhere to the strict Australian Standards.
How's this for clever design?
Were you aware that there rebates are still available for natural gas products?
New laws changes are expected to be introduced to Parliament this year on Legionella reporting, with fines of over $20,000 for those who don't comply.
Processes in the plumbing sector will be the focus of a review by Standards Australia.
Now a cover plate made for the harsh Aussie outdoors.
A big step forward for renewable solutions in the home, with Solahart announcing its collaboration with US energy storage pioneer Telsla Energy.
Making a bathroom look elegant means keeping up with new products.
Keeping with the Australian made theme, if you are looking for a ute canopy, why not consider one from Ausmetal Engineering.
As you'd know, water damage can be expensive to repair so it's good to know that there is a prevention.
When attaching a pipe to a roof, what do you use to seal it so that your customer doesn't get a nasty surprise when the rains hits?
As you would know, freestanding baths are really popular at the moment as homeowners look to create a luxurious place where they can get away and relax for a few minutes away from the hustle of the rest of the house.
When you arrive at a job and realise the pipe has to go through concrete, it can cause a few headaches.
Many of us dream of becoming a professional sportsman - but what about a professional footballer dreaming of becoming a plumber!
From 1st January 2016, the Victorian Government's half price registration scheme for apprentice tradesmen comes into effect.
New star ratings have come in for clothes washers, dishwashers and rotary clothes dryers.
As the temperature rises over Summer, it's important to help keep your customers cool as economically as possible.
Revised Australian Standards for plumbing and drainage have been released.
With a 6 star energy efficiency rating and European design, the Bosch 4000S Internal 12L is a room sealed appliance that uses continuous flow technology.
Rheem has launched its new Brazed Plate Heat Exchangers (BPHX), designed to be used wherever waste heat from water sourced processes can be recovered and used to heat potable hot water.
Now a chance to install a bathroom wherever you want to, regardless of the obstacles!
For those customers who just have to have the latest, why not recommend this?
As a plumber, we can choose to belong to a union to help when it comes to all sorts of industry issues.
Grants worth $25,000 are on offer to help the next generation of plumbers.
A lead contamination scare in Hong Kong has landed a plumber in hot water - so to speak.
A reminder of the importance of the Australian WaterMark.
The range of basins and freestanding bath help improve any bathroom.
A recent plumbing fair in Germany gave an insight into the future of the industry over the next five to 10 years.
A new Advisory Note relating to the location/installation of gas continuous flow hot water systems, has been issued by the NSW Government Department of Fair Trading.
A reminder about the importance of ensuring water heaters are set to the correct temperature after a woman in Brisbane contracted Legionnaires disease due to the circulating pump failing in her solar hot water system.
Rheem Australia has added to its Stellar electric range with the addition of a new 50L stainless steel hot water heater.
For those customers wanting the latest in technology, you might like to recommend a toilet you don't need to touch, to flush!
The 2015 Plumbing & Gas Industry Awards was held recently in Queensland.
New legislation passed by the Queensland Government in June makes it the only state in Australia where you must employ a licensed plumber to install a water meter.
Weighing 2.5kg and measuring 31cm in length, the 22 Volt Mini-Press is used for making press joints Ø 10 – 40 mm, Ø ⅜ – 1 ¼".
17/6/15
This gas boosted system provides a continuos flow of hot water.
8/6/15
Ridge Tool's CS65 Reporting Monitor provides the complete digital reporting solution.
5/6/15
It seems there's a shortage of plumbers in Victoria.
2/6/15
Do you ever get asked why plumbers charge so much?
19/5/15
Another example of the critical importance of being vigilant on testing for contamination and pathogens in our water supplies and air-conditioning systems.
14/5/15
If you aren't already, have you thought about becoming a "green" plumber.
11/5/15
The KEEFLEX S-Core Series has been made using leading technology.
11/5/15
The solar industry is gathering momentum as more people look to reduce their energy costs and greenhouse gas emissions.
7/5/15
Have you ever had your tools stolen?
3/5/15
With residents being advised to place plumbing checks at the top of the priority list (along with electrical work) following extreme weather like floods or cycles, plumbers are being reminded about what they need to check.
22/4/15
Western Australia's Oldest Apprentice.
19/4/15
The Master Plumbers' Association of Queensland has launched a new consumer awareness campaign.
5/4/15
With the looming Google mobile update deadline looming, we are rolling out free mobile updates for all Ontime Plumber 'Found Local' web pages.
28/3/15
If you are a plumber who clears drains, you will know how important new technologies are to the industry.
16/3/15
While plumbing disasters can appear funny at first, thousands of people around Australia are hospitalised each year from DIY injuries.
12/3/15
As you would know, when there's a problem with the plumbing, inspection openings need to be located to access the inside of the pipe.
10/3/15
Fancy a beer? What if it was made from sewer water?
8/3/15
In celebration of the industry, World Plumbing Day was held on March 11, with preparations now underway for the 11th World Plumbing Conference next year.
18/2/15
Check out our new video!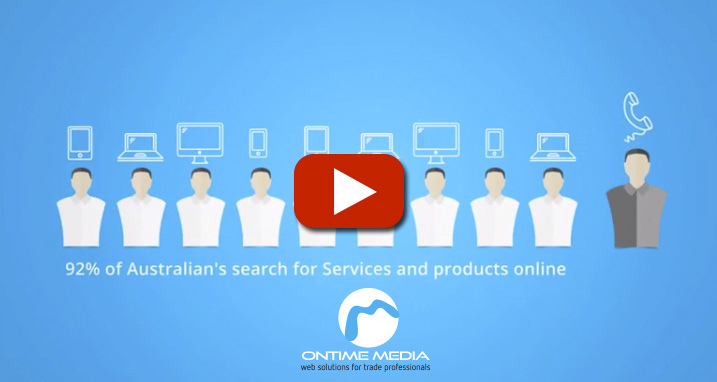 5/2/15
For a new look bathroom, Kohler has come out with a bath that is more like an art piece. More
2/2/15
While bidets are not common in Australian bathrooms, they are getting more attention. More
12/1/15
Need a novel kitchen idea? More
5/1/15
As you would know, tap bonnets can become hard to use due to dissolved soaps and grit that find their way into the housing. More
5/1/15
Don't forget World Plumbing Day on March 11. More
5/1/15
Are you eligible to enter the 2015 Plumbing & Gas Industry Awards? More
27/12/14
Workcover NSW has issued a warning to workers and employers in the construction industry following a spate of fatalities and serious injuries. More
17/12/14
2014, the year that was...
17/12/14
2014 was another big year for the Ontime Plumber website - with over 1 million hits.
17/12/14
Now there's no excuse not to have a quality website.
11/12/14
With the warmer weather comes the storm season.
11/12/14
Polysmart Pty Ltd is a leading Australian polyethylene (PE) welding training organisation and ISO weld testing facility.
3/12/14
After a thermoplastic hose that is not only heavy duty, but light and easy to manage?
23/11/14
Installers of gas understand the need to be vigilant with safety procedures at all time.
15/11/14
From now until the end of February 2015, Grate Seal has partnered with Plumbers' Supplies Co-Op to sell their Grate Seal at a special price.
7/11/14
As we know, joining long lengths of box gutter can be tricky.
4/11/14
The Master Plumbers Association is reminding tradespeople to beware of asbestos that can still be found in many buildings built in Australia before the 1980s.
28/10/14
Zetco has launched its new range of WaterMarked DZR brass swing check valves which compliment its existing range of watermarked spring check valves and y strainers.
28/10/14
The Plumtool Under Path Driver eliminates the need to dig so there are no additional labour and costs to repair the path.
22/10/14
On 1 September 2014, new water requirements came into effect, meaning multi-level buildings must be designed and built to cater for metering of individual units.
22/10/14
New to Australia, the DEL AU sets the standard in instant electric 50° Celsius water heaters.
18/10/14
TempoSoft is an innovative soft touch timeflow tap.
15/10/14
Each year in Australia, an average of 1,800 children are scalded to the extent they need to be hospitalised.
9/10/14
When recommending hot water systems, it's important to know what's out there.
5/10/14
When renovating bathrooms and laundries it's important to know the latest products around so you can bring the best information to your customers.
28/9/14
The 2014 Joint Industry Plumbing Conference is being held at Royal Pines Resort on the Gold Coast on 13th and 14th November.
18/9/14
Pipe Core is a new supplier of quality pipe lining materials and equipment throughout Australasia.
15/9/14
Kohler Moxie Showerhead + Wireless Speaker
11/9/14
Gone are the days when you need multiple cover plates in your van.
8/9/14
When you fit off a tap, it's important to achieve a professional result.
22/08/14
When you need strong and durable bathroom products, check out the RBA Group's Bariatric Range.
22/08/14
Considered recommending black taps for a new or renovated bathroom?
11/08/14
Australia's building and plumbing Ministers have agreed to significant building regulation reforms, claiming the changes have the potential to unlock an additional $1.1 billion a year in economic benefits.
11/08/14
Get two clips for the price of one!
6/08/14
These new and innovative floor waste systems give you plenty of options when renovating a bathroom.
27/7/14
Watermark approved electronic automated safety control valve for internally installed hot water systems.
15/07/14
For back flow, surging and vermin problems, Ningi Reflux Valves provide a single, innovative and simple solution.
8/07/14
The Australian Fair Work Commission handed down its decision on pay awards in the 2014 Annual Wage Review.
24/06/14
Safety Warning
15/06/14
Applications for the 2014 Rheem Apprentice Plumber Grants close soon!
15/06/14
Run your own plumbing business and sick of the paper work?
8/06/14
Winners of the 2014 Plumbing and Gas Industry Awards were announced on Friday 25 July at the Pullman King George Square.
26/05/14
A summary of submissions received on the discussion paper 'Alternative Plumbing Solutions in Western Australia' can now be checked out.
20/05/14
Thinking of putting on an apprentice?
20/05/14
It is important for all plumbers to keep up with backflow prevention and hot water temperature control devices for the safety of everyone around Australia.
12/05/14
As you know, carbon monoxide can be deadly.
8/05/14
If not, the fines could be steep.
21/04/14
From time to time we hear stories that remind us to be aware of best practices to ensure the safety of every worker around Australia.
18/04/14
When it comes to flushing and clearing drains, it is important to keep up with the latest products that could make your life a whole lot easier.
12/04/14
Master Plumbers' Association of Queensland claims new legislation will put communities at risk.
8/04/14
It is critical to always maintain the safest work practices so at the end of the day you get to go home to your loved ones.
23/03/14
Want more information about plumbing and gas installation standards?
21/03/14
A chance for Queensland plumbers to be recognised for professional excellence.
21/03/14
When installing a toilet suite, the Caroma Uni-Orbital Connector allows for more versatility and compatibility.
18/03/14
Want to improve your plumbing knowledge and build a stronger customer base?
4/03/14
Yes there is a day for you!
2/03/14
Are you aware that changes are being made to the National Construction Code (NCC)?
23/02/14
Events, trade shows and expos for 2014
12/01/14
If you are in the Northern Territory, you should be aware of a potentially fatal bacteria found in soil and water.
19/02/14
Want more information about plumbing and gas installation standards?
12/02/14
The 2014 Plumbing Supply Forum (PSF) is coming up in Sydney in May
6/02/14
Master Plumbers are now delivering gas training to plumbers across Queensland
25/01/14
The Master Plumbers' Association of Queensland (MPAQ) has raised concerns about the state's water supply.
18/01/14
What is the economic outlook for the plumbing industry in Australia and particularly Western Australia?
12/01/14
Grateseal has released a new 'stubby' version of their one way floor waste valves.
8/12/13
The new RIDGID SeeSnake® CS6 Digital Recording Monitor Offers Fast, Efficient Results
2/12/13
The Easy Chamfer Tool reduces the time and labour it takes to chamfer PVC piping ranging from 90mm to 375mm.
23/11/13
Smoke testing for drains, ventilation ducts and flues
3/11/13
New Plumbspec range helps installers comply with directional flow requirements
2/10/13
FREE mobile website offer ends soon
4/10/13
Do you have bad debts and slow payers?
2/10/13
Grateseal has just released a new version of their one-way floor waste valve.
29/9/13
A new clause has been added to the Apprenticeship and Traineeship Act in NSW.
23/9/13
De Bortoli's state of the art solar thermal system
23/9/13
Hunts Heating secures an exclusive product development partnership
18/9/13
iPlumbSafe, is an electronic 'Take 5' - specifically for the plumbing industry
16/9/13
The Annual General Meeting of Members of the PIA
14/9/13
A new site, using our Ontime Plumber design
14/9/13
October is Safe Work Australia month and this year's theme is 'Safety is a frame of mind'.
7/9/13
What's new with our new website packages
3/9/13
What we've been up to...
3/9/13
There are promising signs for the construction industry
30/8/13
Things have been tough in small business for many years...
14/8/13
The new Bosch Compress 3000 hot water heat pump
3/8/13
Work Smart and Grow your Business
24/7/13
Industry associations warn of a threat to the apprenticeship system
18/7/13
Queensland plumbers recognised at the MPAQ annual awards.
4/7/13
We launch our new website packages for plumbers
29/6/13
If you get an invoice in the mail to renew your domain, read it carefully
27/6/13
A new opportunity for your business?
15/6/13
A simple solution for smelly floor drains
8/6/13
New Plumbspec range meets overflow standards
8/6/13
One of our new websites. They chose the "Shatter" design.
3/6/13
Conex Bänninger has released the >B< Press High Temperature Fitting
29/5/13
MPAQ urges goverment to introduce more testing
25/5/13
Are you up-to-date with best practice test procedures?
15/5/13
We take a closer look at Hot Water policy state by state.
3/5/13
A new instantaneous hot water flow kit.
22/4/13
Check out one of the longest established plumbing businesses in Australia.
15/4/13
Saniflo introduces the Saniaccess 3
8/4/13
A quality new tool from Plumbers Choice.
8/4/13
A comprehensive article about hot water delivery.
27/3/13
A cost effective solution to getting your plumbing business found online.
10/3/13
The Hot Water industry has seen some dramatic changes over the past few years. More.
10/3/13
The Victorian Government has recently commenced the Victorian Energy Efficiency Target - also known as the VEET scheme. More.
10/3/13
Tasmania recently experienced some of the most devasting fires in the state's history. More.
8/3/13
The PIA (Plumbing Industry Association of South Australia) has announced the 2013 Plumbing and Gas Roadshow. More.
5/3/13
Sydney Plumbers Find a Unique Way to Market their Business. More.
2/3/13
This year has seen some significant changes to the way that plumbers work with a new set of regulations. More.
2/3/13
Major Projects attract plumbers to the Northern Territory. More.
25/2/13
On 1 September 2012 a new Gas Supply (Consumer Safety) Regulation commenced. More.
22/2/13
Here's something new to make life that bit easier. More.
15/2/13
The makers of Grate Seal have recently launched the 50mm version. More.
5/2/13
The World Plumbing Council is holding its General Meeting in Frankfurt, Germany on the 15th and 16 March 2013. More.
3/2/13
There have been massive changes in the world of small business advertising in the last decade or so. More.
28/1/13
The new Urban Wett Spot Shadow Line Point Drain has just been released. More.
28/1/13
Apricus release their range of Solar Hot water Ready Tanks. More.
23/1/13
A great article exploring the different parts of Google search results and how they all work… More.
15/1/13
Wett Solutions have released the URBAN Series stainless steel sliding door channel and grate. More.
15/1/13
The ACT Master Plumbers Association has a new Executive Officer. More.
3/1/13
Changes to the Sydney Water policy for section 73. More.
15/12/12
Store-Safe gas cylinder cabinets. More.
21/11/12
Rinnai has released its new HEX 250 commercial Hot Water System. More.
27/10/12
New Polyslab 'Pizza Bases' enter the hot water market. More.
17/10/12
The Master Plumbers Association of WA 2012 Awards for Excellence Gala Dinner was held on Saturday 17 November 2012. More.
15/10/12
Some tips and ideas to market your plumbing business. More.
4/10/12
Iplex Pipelines has launched a new anti-infiltration overflow relief device (ORC) to the Australian market. More.
28/9/12
A new range of 5-star energy rated Gas Hot Water systems. More.
23/9/12
Grate Seal has recently launched its new Watermark approved Bucket Trap. More.
18/9/12
There is no shortage of industry groups, and now there is a specific industry group to represent backflow prevention stakeholders at a national regulatory level. More.
14/9/12
Up to 21,000 plumbers, electricians and carpenters will be recruited under new reforms to the apprenticeship system. More.
21/8/12
According to the Australian Taxation Office, certain occupations, including plumbers will be under their watchful eye in regards to work related claims.
21/8/12
Echo Plumbing is a plumbing business that wanted to expand their customer base with one of our website packages.
14/7/12
As of 1st July 2012, NSW Fair Trading has become NSW's plumbing and drainage regulator. More.
14/7/12
The state's peak organisation representing plumbers, the Master Plumbers' Association of Queensland (MPAQ), has celebrated industry achievements with the staging of their annual awards.
14/7/12
Reece has recently expanded their online presence and created new tools to make it easier to do business.
27/6/12
As of July 1st 2012, the NSW Deptartment of Fair Trading became the new plumbing and drainage regulator.
27/6/12
Plumbers and builders are required to book inspections for all internal drainage in the Sydney, Illawarra and Blue Mountains area from 1 July 2012.
28/5/12
Approximately 3000 workers - predominanatly plumbers and electricians have been stood down accross Victoria, NSW, Quennsland and the ACT after the engineering firm Hastie Group was placed into administration.
24/5/12
Sydney Water has changed it's customer connection application process in response to customer feed back. There now will be a single point of contact for Sewer, Water and Trade waste applications.
24/5/12
Federal Government is to allow Electricians and Plumbers from the United States to get their licences to work in Australia on arrival.
24/4/12
Caroma has now launched a free App of the tenth edition Caroma Plumbers' Handbook, available to download from the 23 April 2012. Considered the plumbers 'bible', the comprehensive and practical product and technical guide is now in digital format.
18/4/12
Auspex has recently launched it's new underfloor heating system providing consumers with innovative and energy effient heating, with simple installation for plumbers.
14/4/12
Galvin Engineering have combined with Soapstream to create a simple way to improve hand hygiene in schools and public ammenities.
8/4/12
Energy Safe Victoria and the Plumbing Industry Commission are hosting 18 information nights for plumbers in Melbourne and across regional Victoria.
8/4/12
Leading Australian tapware manufacturer Dorf is transforming the bathroom space with the launch of the new Whirl mixer range.
22/3/12
The new Living Victoria Water Rebate Program gives Victorian households the opprtunity to save water and money when buying water efficient products such as rainwater tanks, dual-flush toilets, washing machines, pool covers, garden products, permanent greywater systems and many more products.
05/12/11
Geberit has been recognized among Australia's most innovative organisations, winning the Australian Business Award for "Best New Product" in the 2011 Awards.
22/11/11
The innovative CliniLever® tapware range was launched recently and is designed to reliably meet the demands of hospital and aged care facilities.
28/06/11
It's the *only WaterMark approved 3 Piece Stainless Steel Ball Valve in Australia.
Galvin Engineering's NEW stainless steel 3 piece ball valve is the only isolation valve that can be installed for all Potable Water applications.
Got some plumbing news or information?
If you have plumbing news, information or articles to share, send us a submission by clicking here.