Fernco plumbing couplings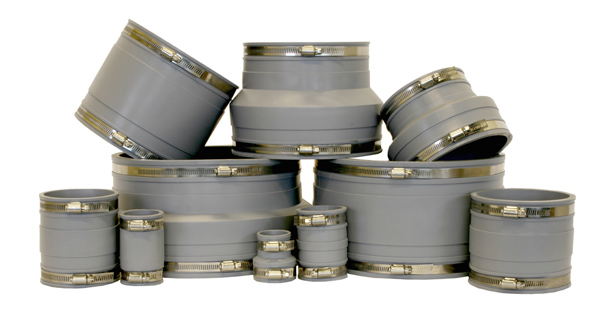 Fernco supply a market leading range of low-pressure flexible couplings for plumbing applications together with a range of supporting products and accessories for plumbers and the plumbing industry. We also have the widest range available in the world with couplings to suit pipes diameters from 15mm to over 3000mm. Our range of grey PlumbQwik couplings were developed to match the colour of most pipe manufacturers in the marketplace, improving the aesthetics once installed. The PlumbQwik range are made from flexible PVC, UV stabilised and can easily be applied on most pipe materials including plastic, copper, cast iron, AC, clay, concrete, steel and fibreglass, and being a quick and tool-free installation, the range is ideal for pipe jointing and emergency repairs.

Our range of Flexseal couplings provide plumbers with couplings suitable for use in underground applications as they are made from high performance EPDM rubber and supplied with stainless steel shear bands designed to resist ground movement and shear loads. With stock sizes available in sizes from 100mm – 620mm and the ability to combine the couplings with rubber bushes in order to connect pipes with varying outside diameters, means we can provide a solution to almost connect any two pipes, especially since we are now able to manufacture custom couplings to suit outside pipe diameters ranging from 620mm – over 3000mm.
The Fernco Pipe Doctor is a 'no-dig' patch repair system which allows plumbers to repair pipes underground without the need for digging. The system is available as an easy to use self-contained kit, whereby the installer can order a box that contains all the material required for them to conduct a repair. The Pipe Doctor patches are available in 500mm, 1m or 2m lengths in sizes to suit diameters from 70mm – 600mm.
For more information:
Website: www.fernco.com.au
Got some plumbing news or information?
If you have plumbing news, information or articles to share, send us a submission by clicking here.