Galvin Engineering grates and drainage
Commercial Floor Wastes and Slip-Safe Bolted Cleanouts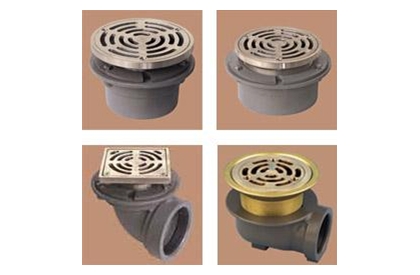 Galvin Engineering's commercial water control products are customised and hydraulically aggressive, with a load rating of up to 10.5 tonne. The drain grates and bolted cleanouts are fully approved to AS 1589.
• Perfect for vinyl floors, as well as resin-coated floors
• Cuts down the risk of slipping on smooth floors
• Drain grates and cleanouts meet class D of AS3996 load testing by a testing facility approved by NATA

• Nickel bronze composite makes it suitable for corrosive, food service and marine environments
• Water-flow tested by the Water Corporation of Western Australia
• Floor drains are adjustable by using compatible BSP parallel threads on grate assemblies and clamp rings
• The floor drain height is variable due to our unique design.

The drain assembly has a reversible clamp ring, so the unit can accommodate a broad range of screed thicknesses and can provide a fine tolerance in height adjustment when installing by plumbers. This means the level of the grate can be set precisely in relation to the thickness of the floor.
Our Floor Wastes and Slip-Safe Bolted Clean outs come in a range of designs and sizes and include slip-in to uPVC, copper or HDPE and BSP thread for installation on vinyl, resin coated, tiled and concrete floors in commercial and residential buildingsincluding hotels, shopping centres, universities hospitals, carparks, and unit blocks.
For more information:
Phone: 1300 514 074
Website: www.galvinengineering.com.au
Got some plumbing news or information?
If you have plumbing news, information or articles to share, send us a submission by clicking here.