Geberit pipes, fittings and roof drainage
Geberit HDPE
Geberit HDPE pipe and fittings are a cost effective alternative to traditional Earthenware, Copper, Brass, Cast Iron and Stainless steel pipes in gravity drainage systems and are simple for plumbers to install.
Geberit HDPE is robust and chemical resistant and is suitable for most drainage applications.
The system is ideal for commercial and industrial installations, including hospitals, laboratories, chemical plants and commercial kitchens.
Geberit Pluvia roof drainage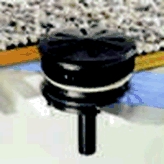 The Pluvia roof drainage system is based on the gravity-induced vacuum principle.
Pluvia consists of Geberit Pluvia roof outlets, HDPE pipes and fittings, an engineered fastening system and a professional support package.

Geberit Pluvia allows the complete drainage of roofs without the requirement of a slope in horizontal pipe work and reduces pipe diameters - saving space, cost and installation times for plumbers.
Pluvia is used in residential, industrial and commercial applications with roof areas as small as 50 square meters.
There are no restrictions on roof shapes and can include flat roofs, normal pitch roofsor even arched roofs.
For more information:
Website: www.geberit.com.au
Got some plumbing news or information?
If you have plumbing news, information or articles to share, send us a submission by clicking here.