Smelly Drains
Grate Seal
If smelly drains are a problem in a commercial or domestic application,
Grate Seal is the solution.
Grate Seal is a rubber one-way valve designed to prevent odours, soap suds, noise or vermin from escaping from smelly drains and into and homes or commercial buildings.
A water seal isn't needed for Grate Seal to be effective unlike other products.
Grate Seal is made from various compounds to suit avery application, making it long lasting and resistant to breaking down.
The one way valve doesn't restrict water flow and the flow rates easily cope with maximum allowable flows from plumbing fixtures.
The simple and innovative design allows for fast installation by a licensed plumber.
Grate Seal can be retro fitted to existing drainage systems by folding it in half.
Simply remove the grate from the outlet and insert the Grate Seal into the drainage riser, then push it back into shape against the wal of the pipe.
Grate Seal is a low cost solution - avoiding the need to remove or replace tiles, concrete or waterproofing.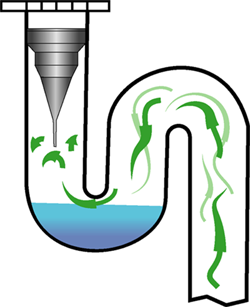 Grate Seal is perfect for floor wastes in domestic, commercial and industrial applications, including:
• Smelly Drains
• Shower and bathroom floor wastes in homes and offices.
• Floor wastes in Airports, Clubs, Hotels Schools and Universities, Child care centres, Seafood outlets.
• Showers and floor wastes in medical centres, hospitals, care institutions and retirement homes.
• Waste outlets in Morgues, Abattoirs, Laboratories, Refineries Processing and manufacturing plants

Grate Seal is simple to install, because you don't need to alter existing waste outlets, drains or tiles.
Grate seal is Australian design and manufactured, is watermark approved, patented and has a registered design.

For more information:
Phone: 0418 659 511
Website: www.grateseal.com.au