Heelguard grating
Heelguard Grating is a revolutionary drainage system designed for simple assembly by a professional plumber. Our unique patterned system snaps together in lineal lengths allowing for for quick, trouble free installations.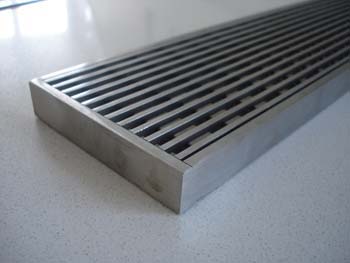 What sets Heelguard wedgewire grating apart is the ability to allow high volumes of water to flow through the grates while capturing unwanted solids on the surface. This is due to the unique wedge shape. Traditionally, a 5mm gap between wires that have a head width of 5.0mm will offer 50% "free area" for water flow , while caturing items like cigarette butts and ather rubbish from entering our water ways.
For more information:
Website: www.wettsolutions.com.au
Got some plumbing news or information?
If you have plumbing news, information or articles to share, send us a submission by clicking here.