Broen Stabitherm Thermostatic Mixing Valves
The Stabitherm thermostatic mixing valves provide a safe and reliable way to control water temperature.
The valves are Australian made and feature an integrated anti-scalding device. Stabitherm valves are ideal for various applications and are simple to install by a qualified plumber.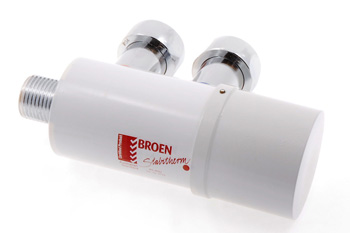 Broen Stabitherm is:
• Approved for use by NSW Health
• Complies with AS4032.1 and AS4020
• Cold and Hot water shut down if either supply is interrupted
• Designed for easy servicing


Hands free knee operated
Stabilet®and Stabiline® have a unique magnetically operated opening and closing system designed for use in the food industry, health sector and any other application where a high standard of hygiene is needed.

Hands free electronic operated
The valve bodies for the knee operated fittings can be supplied with electronic operation. This latest development ensures maximum control of hygiene as the new system is "non-touch". Operation of the valve is simplicity in itself. Each spout has infra-red sensors built into the flange. Placing the hands under the spout breaks the beam and operates the valve taking the hands away switches off the valve shortly after.
For more information:
Website: www.broen.com.au
Got some plumbing news or information?
If you have plumbing news, information or articles to share, send us a submission by clicking here.