Hot Water Richmond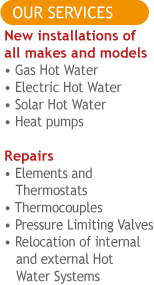 Call us today on 1800 683 908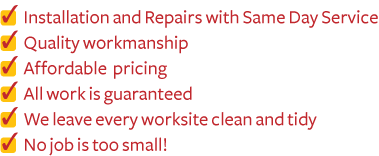 We are one of the leading suppliers of solar, gas and electric hot water systems in and around Richmond.
Our family owned business has been installing and repairing hot water systems in Richmond for over 30 years now.
Our reputation in Richmond has been built on years of quality service and we always provide the best possible solution to your hot water needs.
There are so many products and solutions available today, so following are descriptions of each of product group, to help you choose the best hot water system to suit your needs and budget.
Solar Hot water

- Richmond

Heating water accounts for about one third of a household's energy use. A solar hot water heater can greatly reduce your energy bills and green house gas emissions.
The initial cost of a solar system is more than gas or electric, but energy bill savings will compensate for this over time. And there are government rebates and incentives available which can greatly reduce the cost of the unit and the installation.
Gas Systems
Our professional team supplies and installs a variety of gas hot water systems and tanks in Richmond. Our gas hot water heaters are highly efficient and include both gas instantaneous and storage tank systems.
Electric Hot Water
We also supply and install a wide range of electric water heaters and electric hot water tanks in and around Richmond.
We only supply electric systems from the most reputable hot water manufacturers, so you can rely on us to supply products to truly fit your needs.
Heat Pump Systems
Heat Pump Hot Water Systems are the most energy efficient way to provide hot water in many applications.
Heat pump systems use about one third of the energy of a standard electric system and can be made even more efficient by using a solar preheater.
Repairs and maintenance in Richmond
We provides a complete repair and maintenance service in and around Richmond. When a hot water system breaks down, it could be just a gas problem, leaking valve or electrical fault. We always try to repair hot water systems instead of replacing them which is not only good for the environment, but also saves you money!
For more information about any of our hot water services in Richmond, call us on 1800 683 908 or send an email by filling out the form in the yellow panel.