Blocked drains Miranda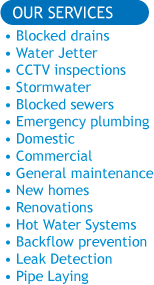 • Save water
• Hot water
• Leaking toilet
• Solar hot water
• Dripping Tap

Call us today on 0424 799 369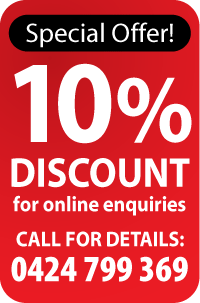 We are the blocked drains specialists Miranda can depend on 24 hours a day seven days a week.
And that's critical when you find yourself with blocked drains in the Miranda area late on a Sunday night. You don't want to wait until the morning to get it cleared. It needs to be fixed fast so you can get on with your busy life.
Our fully licensed and insured plumbers can be at your home or office quickly to remove the obstacle and get the pipe flowing properly again.
Blocked drains in Miranda can be caused by a variety of things. Tree roots, a build up of grease, rocks, silt and foreign objects like toys and toilet fresheners.

We will bring in our CCTV camera to look into the pipe and see what we are dealing with. Our Water Jet Blaster can then remove the offending object and break it up so that it all flushes away leaving your pipe clear again.
We also have locators which enable us to find the pipe quickly and get stuck into sorting out the problem.
Another good reason to call us to clear your blocked drains in Miranda and beyond is because we are professional from the outset.
We arrive at the agreed time and then set about promptly finding the right solution that isn't just a quick fix but is for the long term.
And our prices are fair and competitive so you don't have to worry about being ripped off. You can't last long in business if you can't compete on price - and we can.
If you would like to know more about how we clear blocked drains in Miranda then
give us a call on 0424 799 369.
Or send though an email by filling out the above form. We will get back to you as soon as we can.