WHAT'S NEW IN SOLAR?
A big step forward for renewable solutions in the home, with Solahart announcing its collaboration with US energy storage pioneer Telsla Energy.
Installations are expected to start this month,(February 2016), allowing Tesla Powerwall batteries to be retrofitted to existing photovoltaic systems, or sold as part of an integrated solution when paired with a new PV system.

"This is a natural fit and makes perfect sense, for Solahart," says the company's Stephen Cranch.
It also means Solahart will be the only Australian reseller to provide solar hot water systems, photovoltaic systems and now Tesla batteries.

Cranch says they are developing a comprehensive range of integrated products that will help consumers deal with the rapidly changing energy landscape in Australia.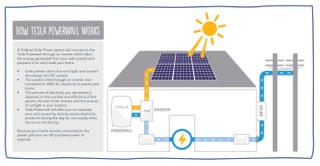 For full details visit www.solahart.com.au.