Drain Mate®
A simple solution for smelly floor drains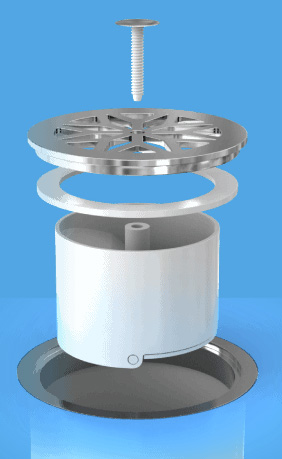 There is a new product on the market to tackle smelly drains - Drain Mate®.
Drain Mate is a watermark certified one way floor valve that can be retrofitted to existing standard 100 mm floor waste drains.
It has a unique, self closing trap door which allows waste to pass through and then returning to a closed position, trapping odours, pests and overflow.
Drain Mate® was proudly invented, designed and made in Australia and not only traps bad odours, but also stops pests before they can enter through open drains.
It also reduces drain noise and stops suds and sewer overflow.
Drain Mate® will fit most grate cover designs for 100 mm floor wastes.
It is longlasting, with no metal parts, springs or rubber to perish.

It is easy to install and is a cost effective solution to floor drain problems.
As it is watermark certified to Australian Standards (ATS 5200. 040 Certificate No. 23117) Drain Mate® can be used in residential and commercial buildings, including hotels, restaurants, hospitals, schools and government buildings

For further information go to www.aussiedrainmate.com.au

Have you used Drain Mate®?
Post your comment below...
comments powered by

Disqus