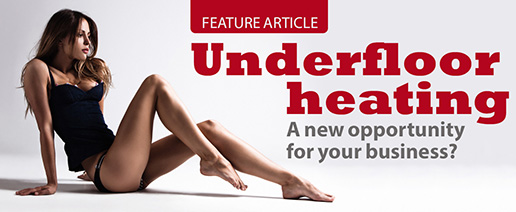 As the construction industry continues to suffer from poor consumer sentiment, it's a good time to look at new opportunities for your plumbing business.
And with winter in full swing (with the exception of our mates in the tropical north!), underfloor heating presents a new opportunity to broaden your plumbing business.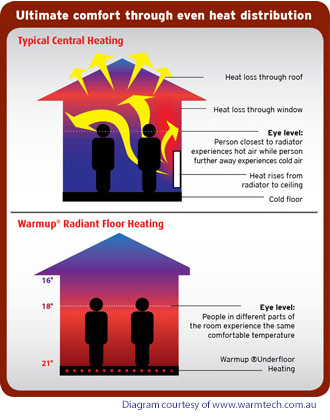 While underfloor heating has been popular in colder climates for many years, it is now enjoying a surge in popularity in milder areas as well.
Matt Reed from Warmtech - a supplier of underfloor heating kits for 13 years - says there are several reasons for the growth in the underfloor heating industry.
"In the past, underfloor heating meant 'in slab' installation and hefty costs. Now installation can be done 'in screed' under tiles - and the cost of materials has reduced significantly", he said.
And with sharp rises in energy costs, consumers are always on the lookout for better heating and cooling alternatives.
"With improved technology and efficiencies, the running costs of underfloor heating compares well with traditional heating methods", Matt said.
"And as for comfort, underfloor heating is a more consistent heat, rather than directional forms of heating like ducted air conditioning".
Opportunities for Plumbers
The main business opportunities presented to plumbers are with new homes and bathroom renovations.
As Matt says, "plumbers can create a profitable add-on service with the right marketing. An all inclusive underfloor heating kit for a four square metre bathroom retails for around $420 and is even cheaper with trade discounts. With a little experience, a plumber can install a heating kit in a bathroom in less than an hour and generate a healthy profit".
A marketing perspective
You have an email list of your past customers, right? If not - you should!
When you introduce a new service, it's a great opportunity to contact your existing clients.
And because heating is seasonal, you can promote a 'winter special'.
You can also add a page to your website with underfloor heating info and add it to the list of services on your Ontime Plumber web pages.
Even when the economy is tight and things are slow, there are always opportunities out there. Sometimes you just have to think outside the square!
Underfloor heating kits are available from all leading plumbing suppliers.
Have you installed underfloor heating?
Post your comment below...
comments powered by

Disqus