Quickie 505
INSTANTANEOUS CONTINUOUS FLOW KIT
The Quickie 505 Instantaneous Continuous Flow Kit is a universal manifold kit, designed to make installing a tempering valve on an Instantaneous Hot water system quick and simple, with all the necessary valves, fittings and insulation to cover, saving the plumber substantial time and therefore money.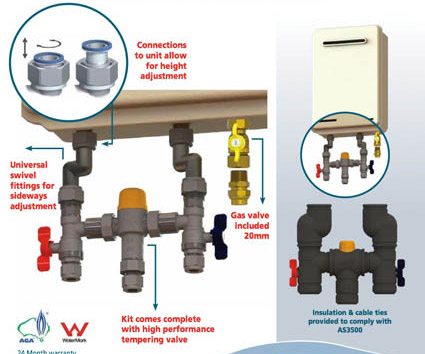 The Quickie 505 kit comes with swivel connector fittings to pick up differing positions for hot and cold water connections. Because different brands of Instantaneous hot water systems have different connection positions, and not all connections are level, with this in mind AVG have designed the swivel connection fitting with a telescopic height adjustable connection, to make the manifold kits level.

The Quickie 505 also offers the option of an untempered line. Long runs of hot water pipe to the kitchen result in "not hot enough" hot water which is resolved by using the option of an untempered line.

The Quickie 505 also comes with a solar high-performance tempering valve and loose nut gas ball valve to make the job simple and easy to assemble, with everything you need in the one box.
comments powered by

Disqus