Pipe relining in Bellevue Hill has never been more affordable.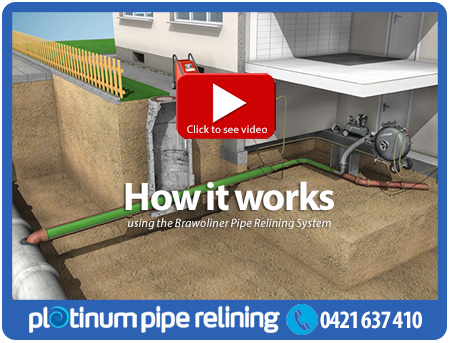 Our fully qualified and skilled team of experts comes right to your home or business fully equipped to take care of the problem.
Gone are those days where restoring flow or repairing damage to drains is a time consuming inconvenience. Click on the video above to see what has changed.
Instead of digging ghastly holes in your yard to locate and replace damaged structures, we use the Brawoliner technique to get the job done in no time flat. When pipe relining in the Bellevue Hill region, we don't need to dig.
Utilizing CCTV technology, we can locate the damage or obstruction from the opening of the pipe. Once we have done this, the solution is as simple as feeding a specialized sock that is presoaked in resin into the tube, inflating it to created a perfect seal and allowing it to set. Simple as that.
There are numerous advantages to this option. Firstly, because the original piping is kept in place there is no need for replacement parts. Secondly, the seal created in the piping actually makes the original structure much stronger that when it was new. Finally, when you choose our pipe relining service available across the Bellevue Hill area you are saving money due to the simplicity of this option compare with the old way of doing things.
All these benefits listed above aren't the only reasons to book us. We are also the team with the best reputation. In addition to our Bellevue Hill pipe relining, residents and businesses call us to take care of a wide range of problems. As such, we have come to be known as the most professional and trustworthy outfit in the region.
If you are interested in these services or would like to talk to an expert about the best way forward, call us today on 0421 637 410.
If you would prefer to email an enquiry just fill out the form in the blue box above.