With pipe relining your Riverview garden stays intact because there is no digging. We offer this professional service because it really works and lasts.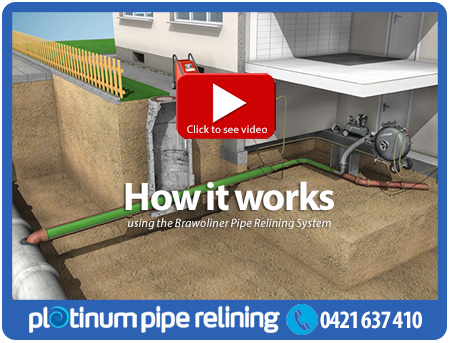 Considering pipe relining but are not sure who to trust in Riverview? Look no further. We have the runs on the board and a growing list of positive outcomes.
Knowing how pipe relining equipment works is essential which is why we can recommend this solution to our Riverview customers because it's our speciality.
But let's not rush in before we know what the actual problem is.
Initially you'll know you have problems when there's blockages and backflows or leaks.
At this stage it is crucial that whoever you call has the right equipment to be able to accurately diagnose the problem.
Our CCTV takes us visually down the affected pipe and once we see the problem we can take the right action.
Fingers crossed we'll be able to clear the blockage with a strong stream of water from our jetter.
Quick, easy and extremely effective.
The solution becomes a little trickier if we find cracks or breaks that need to be sorted out.
This is where pipe relining comes into its own. And in Riverview we have the gear and know-how to ensure a top quality outcome.
We will roll out the specialist gear and get stuck in straight away. The liner, that starts off soft so it can be moulded to whatever shape is required, is fed into the hole and fixed in place. It then becomes hard and is as durable as any similar product on the market.
This method means we don't have to worry about excavators to dig up the problem. As a result you garden is messed up or damaged. It is the clean and green solution, which is why we recommend it.
Ask any question you like about pipe relining at your Riverview place and we are more than happy to answer them honestly so you know what's involved before we get started.
To find out more speak to Rhys on 0421 637 410 or send him an email via the above form and he'll be back in touch shortly.