It's good to know you have someone to call for professional pipe relining services in the Roseville area.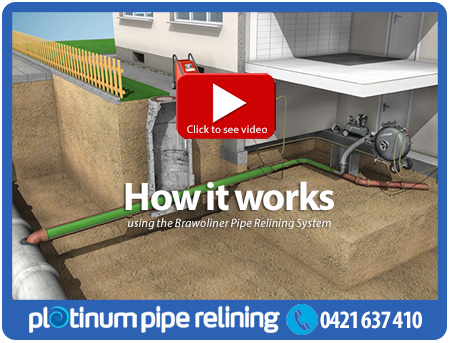 At Platinum we have been doing this type of repair for years and have all the latest gear to ensure the most professional job possible.
It all starts with an initial diagnosis. Using our CCTV we will find out exactly what and where the blockage is. If possible we can use our high pressure water jetter to flush it away. If we find it's due to damage from tree roots, old age or subsidence, then we have the best solution.
Pipe relining really is the best choice for your Roseville property. It means NO DIGGING - so no messy trenches, no mud, no dirt being tracked through your home. It also means your beautiful garden, or the driveway or pool are not touched.
Plus it's much quicker than having to dig up and replace the damaged pipe.
Relining at your Roseville place involves us bringing out our specialised equipment. From there we insert a liner, made of resin. This is able to mould to the inside of the damaged pipe before hardening to create the new pipe inside the old.
From the outset our professionalism is evident. We arrive knowing exactly what to do. No guesswork. No wasting time. No over inflated bills. Just an excellent job for a fair price.
We also handle drips, leaks, drainage issues and anything you need a professional tradesman for.
Our growing list of happy clients is testament to our top class workmanship and overall positive attitude and you can trust that we always strive to please.
Let us handle the pipe relining at your Roseville home or place of work by calling 0421 637 410 or by sending us an email using the above form.