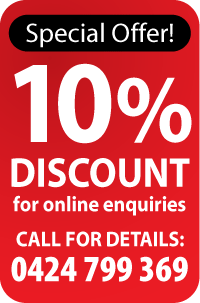 Waterboys Plumbing
Owner Daniel has the professionalism to tackle any plumbing task and the customer service to make sure the job is done quickly, efficiently and with minimal fuss.
Whenever you need a fully qualified plumber in Heathcote you can trust that he can undertake any project - from domestic to commercial - and has all the necessary tools to get the work done in the most effective and efficient manner.
His CCTV camera can identify what's causing a pipe blockage and once he knows what he is dealing with it's just a case of using another specialised tool to remove the problem. This is why we never recommend doing the job yourself. We not only have the skills but also all the gear that help ensure the job goes as smoothly as possible with the least disruption to you as possible.
Gas work also needs a fully accredited plumber so if your home or business is in Heathcote and you require this specialised work to be done you can contact us to see how we can help.
Reliability is also a critical factor to consider before calling a tradesman.
Who wants to wait around for a "no show"?
When you get in touch with us you can be confident we are the plumber servicing the Heathcote area who won't disappoint. We turn up when we say we will and the standard of workmanship is second to none.
Don't risk it with someone else. Go with the one who does a great job for a fair and competitive price. The one who is friendly and easy to deal with and won't let you down.
You can rely on us to be your go-to plumber in Heathcote and the surrounding suburbs so give us a call on 0424 799 369 or fill in and submit the above form and we'll get back to you asap.