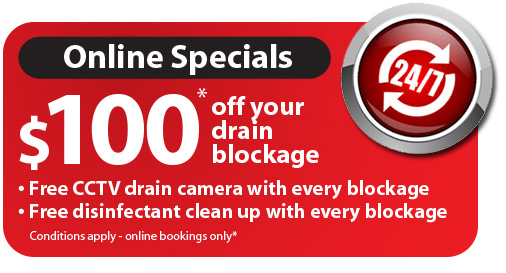 The Plumbing Effect
• Same rate Saturdays (with all online pre booked jobs)
• Price matching clients quotes (received via sms)
• Boots off policy whenever entering your home or office.
• Call on approach to all clients.
We have a CCTV with a tiny camera than can get down the smallest of drains
and give us vision of the problem so straight up we know what we are dealing with. So there's absolutely no guesswork that can lead to serious and costly mistakes.

In most instances we can clear your blocked drains in Cherrybrook fast using our high speed jetter. An extremely strong stream of water flushes the obstruction away without the need for chemicals - it's efficient and good for the environment.
If, however, we see that the collapsed or damaged pipes are causing blocked drains at your Cherrybrook property, we can resort to our relining equipment.
This fabulous technology allows us to basically form a new pipe within the damaged one. The end result is better than if we opted for excavating and replacing because the new section is just as strong and durable as anything on the market.
And the bonus is no damage and unnecessary expense caused by digging and excavating.
We also offer a complete range of services whether you need gas work done or help with heating water, we know what your options are and what would best suits your needs for now and into the future.
Our fully licensed and insured professional tradesmen will arrive on time and not let you down. That is what being professional is all about and we don't ever risk tarnishing our excellent reputation in the area. We promise and we deliver which is why we keep building on our solid customer base.

Ask us how we can clear your blocked drains in Cherrybrook and rest assured we can handle the most serious job using the latest in technology.
Call 0413 333 328 and we'll contact you asap.