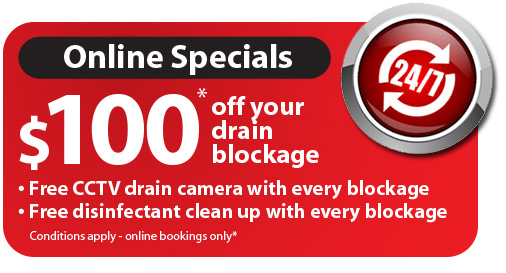 The Plumbing Effect
• Same rate Saturdays (with all online pre booked jobs)
• Price matching clients quotes (received via sms)
• Boots off policy whenever entering your home or office.
• Call on approach to all clients.
For clearing blocked drains in Penrith and the surrounding district, you can trust us to get the job done efficiently and professionally!

We know from experience that having blocked drains in the Penrith area can cause all sorts of problems at home or at work. Everything comes to halt until the affected drain is cleared.

And who do you call to clear your blocked drains in Penrith? Us. Because we have the tools that are vital to firstly diagnosing the problem and secondly clearing it fast.

We have a CCTV Camera that we insert into the pipe to find out what's causing the blockage. Tree roots are a big culprit but it could also be a plastic toy that has accidentally found its way into the toilet or it could be just a build up of grime over the years.

Once the diagnosis is made we can then decide what to use to clear the pipe fast. Maybe our Water Jetter would be used to flush the blockage away. Or it could be our Electric Eel. Either way we can clear your blocked drains in and around Penrith with as little fuss to you and your family or business as quickly as anyone around.

And in an emergency, we can be there at any time of the day or night seven days a week to get you out of a pickle! When you rely on us to clear your blocked drains in Penrith you can be sure you are getting value for money and a job that will prevent the problem happening again for years to come.

Call us on 0413 333 328. We will get back to you shortly.