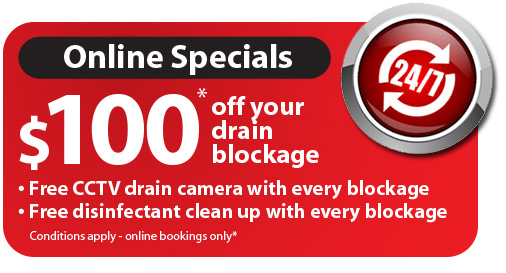 The Plumbing Effect
• Same rate Saturdays (with all online pre booked jobs)
• Price matching clients quotes (received via sms)
• Boots off policy whenever entering your home or office.
• Call on approach to all clients.
We are the team to choose for blocked drains in Thornleigh.
Why? Because of our years of experience and investment in the latest tools of the trade. Firstly our closed circuit television camera will accurately find what is causing the blockage. Maybe it's just debris like grime and hair not allowing the water to drain away? Maybe a small plastic toy that has fund its way there accidentally? Whatever it is we'll find it and then use our jetter to wash it away. The strong stream of water will also clean the sides of the pipe so you'll be right for years to come.
If, however, we discover that wall collapse is causing blocked drains, we can offer a relining service so your Thornleigh home or workplace remains intact without being damaged by excavators having to dig up the offending pipe.
This is a specialised job as it involves training on state-of-the-art equipment that enables us to place a liner on the inside wall to create a fully sealed pipe inside the old one.
It is imperative therefore, to call us before anyone else as not everyone can do this work which can save you hundreds, not mention the hassle, if a serious problem is uncovered.
Besides sorting out blocked drains, we do all residential, commercial and industrial work around Thornleigh while also offering a 24 hour emergency service. Whether you need water heating advice, water saving measures backflow prevention or the fitting of gas, we have it all covered.
And we are professional from the outset, arriving on time and doing the most professional job for the fairest price.
Get us to check out those blocked drains causing problems at your Thornleigh property by calling 0413 333 328 or be emailing us by clicking here.