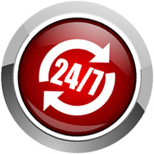 President Plumbing
How do you know who will offer the best and most professional service at a price that is the envy of the industry? Call the Master Plumber and licensed builder who teaches at the Master Plumbers Association.
President Plumbing Solutions is the plumber for Quakers Hill who leads the way by offering the customer the most qualified and experienced tradesman around. It is because of this experience and expertise that we are willing to offer a lifetime warranty on all installations done. Additionally, we are so confident in our professionalism that we are the only ones in town who will pay you, the customer, if we are late! For every minute, you will be refunded $2 from your service call!
When you call President Plumbing Solutions you speak to a real tradesperson, not a sales team. Owned and operated by Christopher and Imelda Zubrycki, we are the plumber in Quakers Hill and neighbouring region that you can be confident in. This isn't just hollow words, as a teacher of Master plumbers and an industry leader, the Zubrycki's have a hard earned reputation that is the envy of the industry, and at the scrutiny of the competition.
What can we do? Anything you would expect from a Master Plumber but with the lifetime installation guarantee that sets us above the rest. Whether you need advice on installations, hot water, solar and gas, leaks, blockages, pipe laying, renovations, bathrooms, sinks, all general plumbing, there is only one plumber in Quakers Hill to call.
Call today on 0404 380 380 or send an online enquiry by filling out the above form to get the number one plumber servicing Quakers Hill. Speak to a tradesperson, not a salesman, and get your job sorted out with confidence!