It's important to be informed when it comes to online marketing.
A great starting point is to find out about the different parts of Google search results and how they all work…
When you search in Google, there are three different sections (see fig. 1):
1) Google Adwords listings
2) Organic results
3) Map listings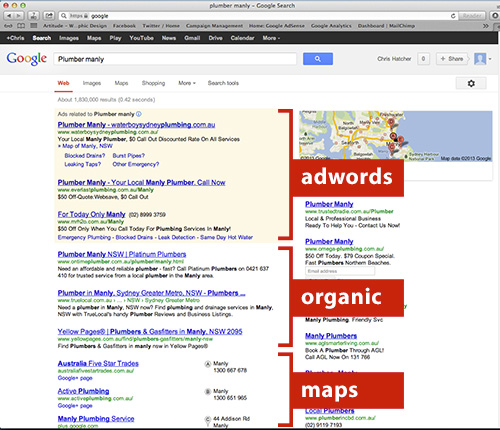 Fig. 1
We'll explain each section and how you can be part of it.
We have also produced a video to explain it all (see bottom of this page).
Google Adwords listings
These listings appear in a light yellow panel at the top of the results and are also listed down the right hand side of the page.
These are paid listings. Every time someone clicks on one of these listings the company who has the listing pays Google. It's also known as pay per click advertising.
Adwords can work very well - you can start and stop campaigns at any time and it is a good way of driving traffic to your website - which in turn is good for organic results (more about that later).
But it can be expensive. In competitive areas, some plumbing businesses are paying $10 - $15 or even more for every click. It can add up very quickly!
We suggest to our clients they trial a campaign with a set budget and see what the return on investment is.
You can set up Adwords yourself, but experience helps create a more cost effective campaign than standard default settings. If you have a curious mind and enjoy working with computers, then you should give it a go. (Most of our clients prefer us to create and manage the campaign for them).
Organic search results
These are the 'true' search results.
Getting your website listed in organic results relies on many factors (site structure, keywords, links - I could go on an on!!).
It is getting incredibly competitive and increasingly difficult to get good rankings.
Think for a minute how many plumbers service your area - or would like to. You are probably talking hundreds - at least.
Then there are all the directories (Hot Frog, True Local, Yellow Pages etc.).
And there are just 10 organic listings on each page of Google.
And everyone is scrambling for a spot on page one - page two at worst - if you're on page three - good luck!
So how to get good rankings for your business?
One option is to get a very good website built and have it 'optimised' for your local areas. Please, please do your homework before you start. Ask any prospective web designer to show you real results in Google - eg. "Plumber Manly" - not a business name.
Of course I have to mention our Ontime Plumber web pages!
If you haven't seen them, they are highly optimised for your local suburbs and are very inexpensive. (Click here to check them out).
There are also directories as mentioned before.
Directories used to be good value (most of them were free!), but some are becoming quite expensive. The draw back with directories from a business perspective is that yours will only be one of many businesses listed for your area. It might be worth it if you are listed at the top (if it is a very good directory), but if you are down the list, it's probably a waste of money.
Maps
These are great. They're free and Google give them good exposure on page one.
But (there's always a 'but'!) they are very localised and like everything, getting more difficult to get a spot in. There are usually just seven map listings on page one.
But give it a go. Go to Google Maps and click the 'Put your business on Google Maps' link.
Conclusion
Getting a strong online presence is getting more competitive, so you need to be realistic with expectations. Getting a free listing in a couple of directories is very unlikely to get any enquiry. Our advice is to get a wide and varied profile in Google as cost effectively as possible. And make sure you monitor enquiries to see where they came from.
If you have any questions about marketing - or any part of the article, feel free to give us a call at Ontime Media on 1300 846 221.
We have also produced a video to help explain it all - good luck!!
For more marketing articles, click here...
Got some suggestions for our magazine?
Post your comment below...
comments powered by

Disqus