The Retro Billboard!
Sydney Plumbers Find a Unique Way to Market their Business.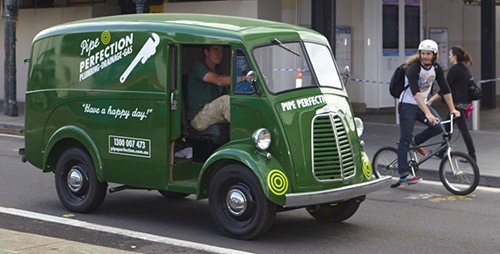 In today's competitive world of business it's hard to know how to get your business noticed. Pipe Perfection Plumbers in Sydney has come up with a marketing tool that has the locals talking.
Realising how hard it would be to get his business to stand out from the rest in Sydney's Inner West, owner of Pipe Perfection, Darren Clancy, came up with a novel idea after doing some plumbing work for a local car photographer. He spotted photographer Peter Bateman's Morris J-Type van and quickly decided that a quirky mobile billboard was the answer.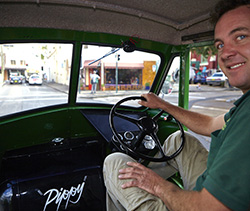 "I decided there and then we'd have to get one," recalls Darren. "Apart from anything else, a vintage van looked like a fun way to help promote our expertise in plumbing for vintage houses."
There aren't too many J-Type vans but pretty soon Darren and partner Alayne had tracked down a 1958 J-van near Cairns and a deal was done.
Darren has spent the last 12 months restoring the van that has now become the official mascot of Pipe Perfection Plumbers and is well and truly earning her keep as a mobile billboard.
"Pippy" as she is affectionately known by the company's employees is regularly spotted along King Street in Newtown and other main roads in the area. She is also on branded magnets, which passers-by are encouraged to help themselves to. 
And "Pippy" has a history all of her own. She was first delivered to Guest's Bakery in Wangaratta in 1958 before being used by the 'Wang Rovers' footie club as a party van and mobile Esky.
In 1998, J Van enthusiast, Steve Hartnell, took her to Queensland and commenced restoration before selling her to Pipe Perfection Plumbers.
Each issue we would like to profile a plumbing business.
Does your business have something unique about it?
Click here to send us an article.
Got some suggestions for our magazine?
Post your comment below...
comments powered by

Disqus