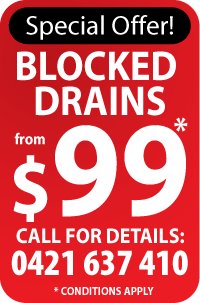 Platinum Plumbers
For over 10 years we have been the plumber Clontarf turns to for practical plumbing solutions at a reasonable cost.
From drainage issues to hot water repairs we'll be there to help at any time in an emergency.
Our fully laden trucks have everything we need for any job which means we'll be there fast, get the work done and get out of your hair as soon as we can! That's how our prices stay competitive. Fewer hours on the job equates to fewer dollars on the bill.
If you do find a problem with your drainage - like a blockage in a pipe or smelly drains - we'll come and take a look and give an accurate diagnosis. We have a C.C.T.V camera to peer deep into the pipe and that's how we can see what the problem is. We also have a jetter that can flush most stubborn blockages away. If not we can bring our excavator in to access the problem pipe and get it flowing normally once again.

Why else should you pick us to be your plumber in Clontarf? We are true locals. We know the terrain and piping systems used in the area so have a distinct advantage over the bigger guys who don't live around here and so don't have this knowledge. This 'inside' information allows us to make practical decisions and not waste time going about the job the long way and charging for unnecessary time.
The plumber you choose for your Clontarf home or workplace should also value quality. We use reputable manufacturers to source our products because we know they are tried and tested and will last the distance.
We also believe in keeping appointment dates so you can trust we will arrive at the scheduled time.
For any domestic, commercial or industrial project ring the plumber Clontarf recommends on 0421 637 410 or use the form on this page to send us an email.