Dux Prodigy range
A new range of 5-star energy rated Gas Hot Water systems
With the ever changing hot water industry, Dux has launched its new range of Gas Hot Water systems.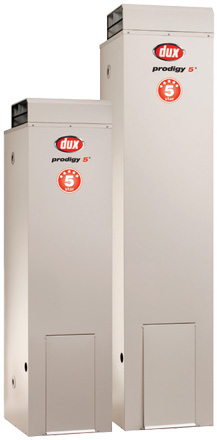 The Prodigy 5 gas storage water heater range is already getting recognition in the industry.
The key feature of the new range is it is the only 5 star rated gas hot water heating system that uses the same footprint as 3 star gas storage units from other brands.
This makes installation simple for plumbers and savings can then be passed onto customers.
Being a 5 star energy rated product, there is improved energy efficiency, which means a reduction in carbon emissions.
The new Dux Prodigy 5 is designed as the ideal hot water heater to replace existing low efficiency tanks when they fail. They are designed to reduce heat loss after the heating cycle to maximise energy efficiency and can deliver more than 2,000 litres of hot water over a 24 hour period at a 45°C temperature rise. There are two tank sizes - 135 or 170 litres, and they can utilise natural or LPG gas.
The new Prodigy range is designed and manufactured in Australia and comes with a 10 year warranty.
For more information check out www.5stargas.com.au
To check out more plumbing products, click here.
comments powered by

Disqus